Los californios® Home | Resumé | Events | Wares | Order Form | Sitemap | Contact
Vykki Mende Gray — Profile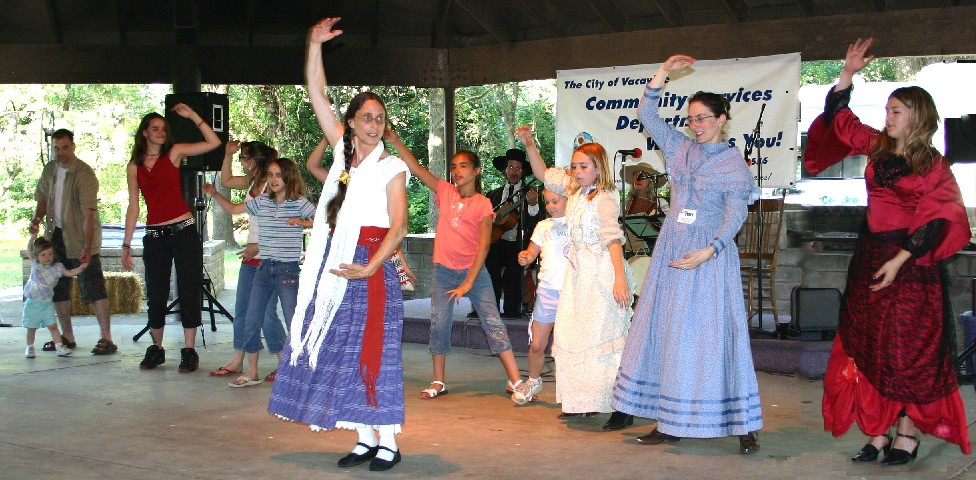 Vykki teaching dances at the Peña Adobe Fandango in Vacaville.
Photo by Jerry Bowen
Los Californios® | Sheet Music | Music of Early California | Melquíades Rodríguez | Kenny Hall | Mariachi Sherman | Artist
Los Californios® — Historic Secular Music of Mexican-Era California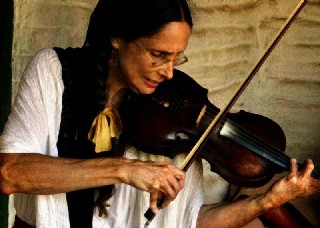 Photo by Ellen Wallace
&nbsp
Vykki is the artistic director of Los californios®, a project of San Diego Friends of Old-Time Music (a California non-profit corporation). This musical ensemble interprets the secular songs and dance music of eighteenth century and nineteenth century Spanish and Mexican California. Vykki researches, transcribes, and arranges pieces from original material for this group's repertoire. These efforts have resulted in renewed interest in the genre, on both sides of the border.
Sheet Music Transcriptions of Traditional Music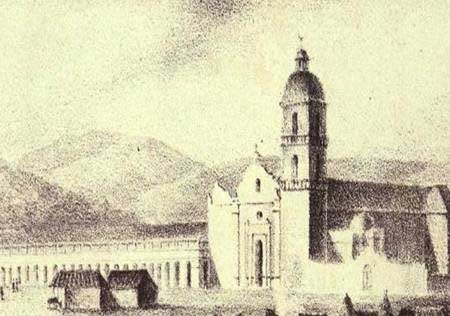 Vykki has a knack, developed over many years, for being able to listen to folk music and capture it on paper. She has utilized this talent in a number of projects, capturing music that has previously been available only to the lucky few.
Music of Early California — Songs and Dance Tunes
Original transcriptions and arrangements of songs and dance tunes from the 18th and 19th century Spanish-speaking Californians, many from them from the Edison wax cylinders recordings made by Charles Fletcher Lummis starting in 1903. Most of these pieces have not been readily available to a general audience for over a hundred years. Available in individual volumes, or as the complete collection with overall index. Click on picture, left, for details.
Books by informant source
Casa de estudillo — San Diego: Cover for completed book.

Painting by L. H. Coyner, pre-1908. Used by permission of owner.
Vykki has begun the process of organizing the transcriptions above by source, creating individual books that will also be chapters in the completed book. This material is not in addition to the pieces above, but does present that information in a more organized form. It does not yet include all of the material in the supplements, but hopefully someday it will.
Click on cover images below for more details on each.
Songs from Rancho Camulos
(Coordinating CD also available.)

Item Number: BK-201 CAL $10.00

Songs from the California Traditions
of the Villa Family

Item Number: BK-202 CAL $10.00

Songs from Francisco Amate


Item Number: BK-203 CAL $10.00

Music of the García Family
of Los Angeles


Item Number: BK-204 CAL $15.00

Songs from San Buenaventura:
Traditions from Adalaida Cordero Higuera Kamp
and José de la Rosa

Item Number: BK-208 CAL $15.00
Dance Tunes
The following books of dance tunes include a great deal of material that is not part of the Big Book. Click on cover images below for more details on each.
Dance Tunes from
Mexican and Spanish California



Item Number: BK-205 CAL $10.00

Joseph María García Manuscript:
Volume 1: Contradanzas
Eleanor Hague Collection


Item Number: BK-206 CAL $15.00

Joseph María García Manuscript:
Volume 2: Piezas de Danza, Minuets,
y Otras Cosas
Eleanor Hague Collection

Item Number: BK-207 CAL $15.00
Paintings used by permission of owners.
El ciego Melquíades — Sheet Music Transcriptions
The Fiddle Tunes of Melquíades Rodríguez:
a tejano fiddler of yesterday
This Texas-Mexican fiddler recorded in San Antonio, Texas from 1935 until about 1950. His popular and lively style fiddle-based dance music was about to succumb to the post World War II trend for louder and flashier sounds. As the fiddle was replaced by the accordion in Tex-Mex music, these fiddle tunes faded from the popular scene. Click on cover illustration to the right for more details.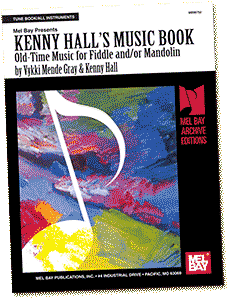 Kenny Hall's Music Book
Old-Time Music for Fiddle and Mandolin
Once again available is one of Vykki's previous projects in documenting traditional music in California: the classic Kenny Hall's Music Book, published by Mel Bay Publications — a collection of California old-time music and reminiscences from Kenny Hall, acclaimed fiddler, mandolin player, and California living treasure.
For folk musicians who don't read music, Kenny's stories are as compelling as his music. And a journey through this book takes the reader not only into the often forgotten world of old-time music in California, but also into Kenny's experiences growing up and coming of age in the institutional blind community from the late 1920s through the 1950s — when music was considered vocational training for blind children. Click on cover illustration to the left for more details.
For more information about Kenny Hall, go to:
http://kennyhallband.com/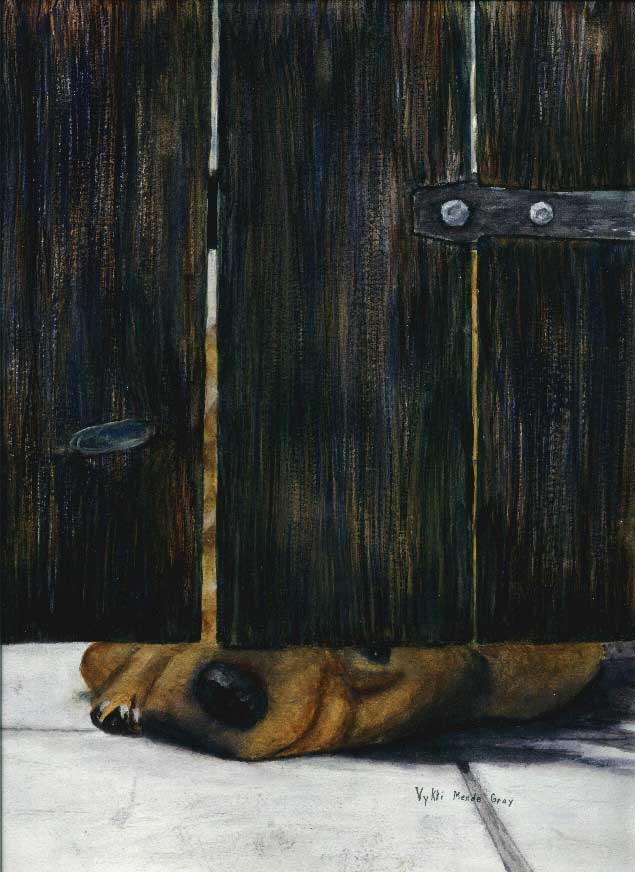 Mariachi Sherman
ATTENTION: Classes temporarily suspended due to Vykki's health proplems.
Vykki was instrumental in creating the music program at Sherman Heights Community Center in San Diego. She used to teach Mariachi violin classes for students ranging in age from five years old to adult. Starting January 2009, these classes were hosted at Our Lady's School, 24th and Market Streets, in the neighborhood of Sherman Heights.
Artist
And Vykki is an artist, too!! Follow this link to find some examples.

Los californios® is a registered trademark belonging to San Diego Friends of Old-Time Music, Inc.,
a California non-profit corporation.

Contact Los californios® at info@loscalifornios.com.

Find Los californios® on Facebook.

© Vykki Mende Gray, 2020
All rights reserved.

Web design: Ellen Wallace and Vykki Mende Gray
All rights reserved.


| Los californios® | History of This Music | Padua Hills Theatre | San Diego Friends of Old-Time Music | Sitemap