Behind the scenes at Padua Hills Theatre many people worked together to make it all work. Does your family have stories or pictures about that experience?
"I just stumbled across the Padua Hills web site and thought I would add what minimal information I have, although it is not about any of the players.
"My mother, Agnes Rose, was a laundry/wardrobe employee at Padua Hills in the early 50's along with Lucille Lopez. I often went to work with her and remember a background artist named Carlos. If I ever knew his last name I don't remember it. I do remember that I thought he painted beautiful pictures, and he was very kind and patient with a little kid. The cooks were great also, letting me hang around the kitchen and grab snacks. If anyone remembers Carlos, I would appreciate hearing about him.
"I really loved going to work with my mom, and have nothing but good memories of Padua Hills."
Isabelle Green
"I was born in Pasadena in 1931 and grew up there. As a child I remember my aunts: Flora Louise Salmans Hess, who taught girls's P. E. in junior high school in Long Beach; and Edith Salmans who taught Spanish Literature at Compton College. They were active in the early development of the dance programs at Padua Hills. They had grown up in Guanajuato, Mexico, and were steeped in Mexican culture.
"When Padua Hills was in the developmental stage, Aunt Flora after a full day of teaching would drive up from Long Beach, pick up Aunt Edith in Compton, and drive to Padua Hills where they would work far into the night with other enthusiasts. Aunt Flora helped to research the traditional Mexican dances and their costumes, and helped to teach the dances to those who would be performing them. Aunt Edith, who was very artistic and an accomplished seamstress, helped the team to produce the beautiful authentic costumes used in the productions.
"When Aunt Flora died in the 1950s I took on the major burden of clearing out her things — her home in Long Beach was literally stuffed with the most amazing things, and time was short for me, having come down from San Francisco with a babe in arms to help out. I remember that in one of the linen drawers, along with some beautiful Mexican drawn-work, I found the original water color designs for the Padua Hills dance costumes. In the pressure of the moment, I LET THEM GO! To this day I grieve over that! If I had them, I would certainly send them to you.
"As a child I remember the Aunties taking me over to visit at Padua Hills — a truly magical place! I am so glad that you are preserving this rich and enchanting slice of our California past.
"All best wishes,"

Marie Escher
"Hello. I was looking through your website. I noticed you are asking for documents and photos supporting the history of Padua Hills Theatre. I have a photograph of the cast and staff at Padua Hills in 1936 or 1937. Those years my grandmother, Nora "Fair" Dunne, was a seamstress for the costumes, and the photo I have comes from my mother's album. Fair is marked with an X at the far right. There are no names written on the back of the photo, but the photo is in good condition and is very clear."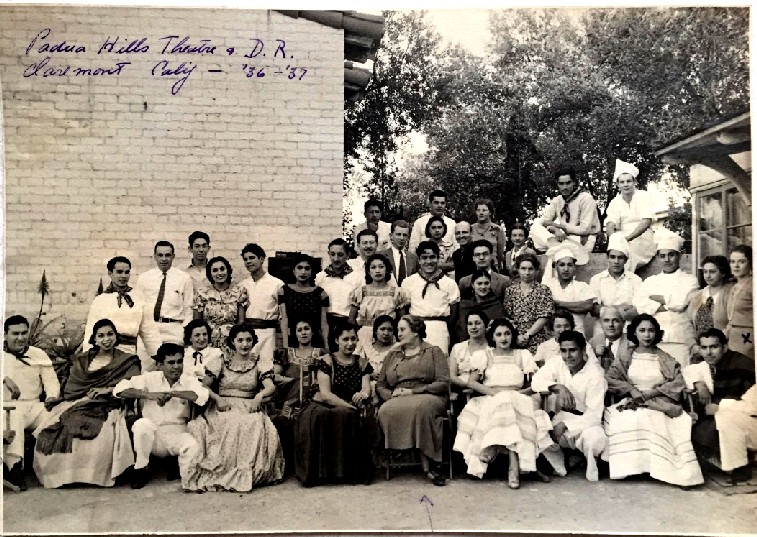 Scan contributed by Joanne Hardy
Placentia, CA
"Hi. I'm sitting with my Grandpa, Robert Perez. He is 91. He use to work at Padua Hills in Claremont, he thinks around 1938, for a few years. He worked there as a dishwashing boy and bus boy. Also, his friends, who later became brother-in-laws, worked there as well: Alfonso and Arthur Guiterrez. But he [Robert Perez] doesn't remember what they did there.
"If you have any information on any of these 3 people, please let me know. I do know when I found my Grandma and Grandpa's engagement announcement it said Robert Perez, 21 Padua Hills Theatre in Claremont, so he also lived there for a few years.
"Thank you,"

Toni Morales
Some people would like more information about their relatives and friends who worked at Padua Hills. They would appreciate any information you might have.
"To Whom it May Concern,
"My name is Maria Knight and my grandmother, Mary Prado or Mary De La Hoya, used to work at Padua Hills. I am unsure what years she had worked there but I do believe it was before my mother was born, which was 1944. I have seen many pictures of her, there working on the looms, working in the Men's shop, as well as being part of the plays. I was just wondering if there any records/documentation that she worked there or if you have any pictures of her. I would greatly appreciate any information that you can give me, on my grandmother.
"Thank you,"
Maria
People who attended performances also have left behind stories of how they were impacted by Padua Hills Theatre:
"When my mother passed away 10 years ago, she left hundreds of love letters which she wrote to my father when they were dating. Some letters were to others, some to and from my grandparents. I have taken on the task of transferring these letters to computer printed so they can be read. I'm the only one who can read my parents and grandparents handwriting and when I pass on (I'm 62), no one else will take the time to do this.
"I just typed a letter from my grandmother, who lived in Santa Ana, to my father, who was traveling around the world at the time. Here is the portion re. Padua Hills:
"Nov. 26th, 1937
"Yesterday was Thanksgiving Day. We went to a very unique and interesting place for dinner. It is called Padua Hills, back of Claremont, a Mexican colony. Very high class. Beautiful young girls and boys. They sang their native songs and danced the native dances in costume. It has much atmosphere. When you return, we will go up there some Sunday for dinner. I'm sure you will love it."
"I also grew up in Santa Ana and can remember my parents taking me there when I was a young girl.
"Thought you'd like this bit of memory."
Linda Hayes
Carlsbad, CA
If your family has recollections or images of Padua Hills Theatre that you would like to share on this web site, please contact Los californios® at info@loscalifornios.com.
© Vykki Mende Gray, 2020
All rights reserved.
Web design: Ellen Wallace and Vykki Mende Gray
All rights reserved.
Los californios® is a registered trademark belonging to
San Diego Friends of Old-Time Music, Inc.,
a California non-profit corporation.